L&N Scotland named Best Overall Supplier by GE
---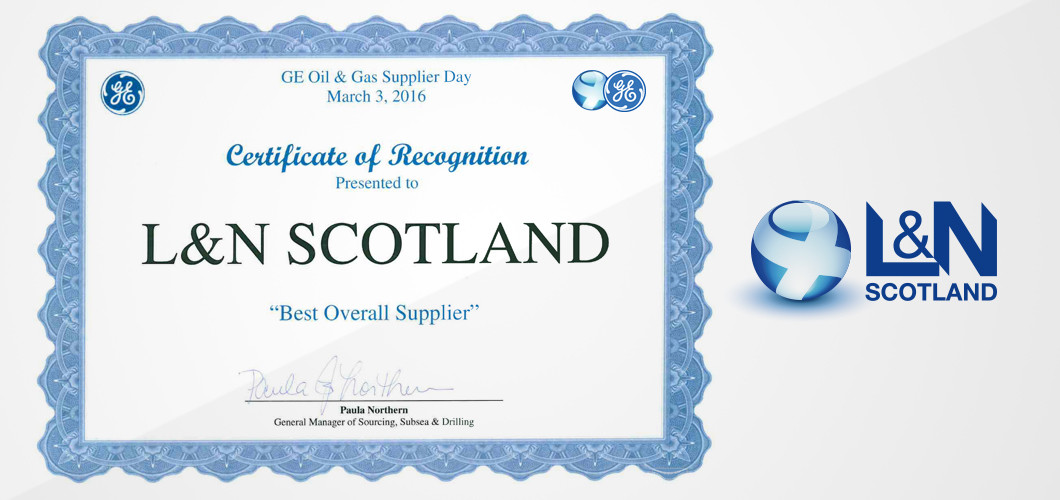 GE Oil & Gas have awarded L&N Scotland the 'Best Overall Supplier' at the GE Oil & Gas European Supplier Day held at the AECC, Aberdeen. The prestigious award recognises the best supplier in their field, whose technical solutions and objectives align with GE Oil and Gas's current and long term goals.
On 3rd of March 2016, 50 companies were invited to attend the event with the agenda based on showcasing current areas of focus in the oil and gas industry with key presentations, breakout sessions and award announcements. The events theme 'Fuelling the Future' showcased the latest business updates from GE Oil and Gas's Leadership team, providing attendees with an insight into the company's goals in the current climate.
L&N Scotland were distinguished for their commitment to excellence, quality, growth, on-time delivery and sustainable practice. The accolade and certification plaque was presented to our team at the GE Oil & Gas European Supplier Day, awarded by Paula Northern, General Manager of Sourcing Subsea and Drilling.
Announced as GE Oil and Gas's 'Best Overall Supplier', L&N have been working collaboratively with the company for over  15 years', providing a comprehensive portfolio of services to establish effective supply strategies, and to accelerate growth and added value in subsea manufacture and service operations.
L&N Scotland supports GE Oil & Gas with turnkey spool manufacture, technical engineering solutions, innovative product integration, repair and refurbishment and material stock holding. We also operate a continual review and development program in accordance with its 'core values' to support the innovative manufacture and integration of subsea assemblies for GE Oil and Gas.
Commenting on the latest accolade, L&N Scotland Managing Director, Craig Finnie said: "We are delighted to receive this award and to continue working closely with GE Oil & Gas, further strengthening our relationship. This award, especially during this challenging time, demonstrates the confidence our clients have in L&N Scotland's ability to successfully deliver efficient turnkey services, and is an indication of our commitment to achieving client satisfaction."
"At L&N Scotland we prioritise our client's needs, working hard to create and deliver sustainable value for our stakeholders. We understand that in the current climate, customers require new and innovative ways to optimise the manufacture and integration of subsea products.  L&N Scotland have honed our business with a focus on these key areas,  allowing us to offer the high level of experience and knowledge required to deliver 'cost-out solutions', subsequently keeping us at the forefront of the subsea industry."